MWC senior leadership team welcomes new appointees
We highlight the recent appointments of three exceptional scientists – Associate Professor Rinki Murphy, Professor Debbie Hay and Dr Nikki Moreland – to the Maurice Wilkins Centre leadership team.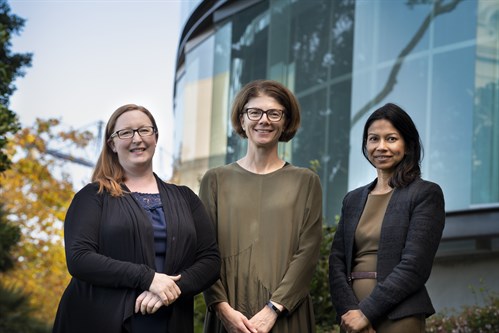 In 2018, three of our most experienced researchers were appointed to senior positions within the Maurice Wilkins Centre's leadership structure.
Diabetologist Rinki Murphy, Associate Professor in Medicine at the University of Auckland and physician at Auckland DHB and Counties Manukau Health, was promoted to a Management-Principal Investigator (PI) position. Rinki is a co-leader of our 'Genetic Predisposition to Obesity and Diabetes in NZ Populations' flagship research programme.
"I am delighted to join the management PI team within the MWC," said Rinki. "Through this role, I am excited to contribute to discussions about the future vision and structure of the MWC.
"I see that the MWC network of investigators can provide such research opportunities on a collaborative basis with clinicians for synergistic outcomes that will ultimately improve health of New Zealanders more rapidly than efforts from each group in isolation."
Pharmacologist Debbie Hay, Professor of Biochemistry and Pharmacology in the School of Biological Sciences, University of Auckland, was also made a MWC PI. Debbie and her research lab have a particular interest in class B (peptide) G protein-coupled receptors and their potential as drug targets for metabolic disease, as well as other conditions such as migraine, pain and cancer. "I'm thrilled and very much looking forward to leading the Maurice Wilkins Centre's 'Therapeutics for metabolic disease' flagship research programme," said Debbie.
In addition to her many awards, Debbie has been appointed a James Cook Research Fellow (Royal Society of New Zealand) and a Fellow of the British Pharmacological Society. She is also an Editor of the British Journal of Pharmacology, an International Union of Basic and Clinical Pharmacology (NC-IUPHAR) corresponding member, and is Chair of the NC-IUPHAR subcommittee on calcitonin family receptors.
Rheumatic fever specialist Nikki Moreland, a senior lecturer in immunology based in the School of Medical Sciences, University of Auckland, and co-leader of the MWC's 'Group A Streptococcus' flagship research programme, was also appointed as a PI with the MWC.
Nikki has research expertise in humoral immunology and infectious diseases, and her group uses a wide range of techniques to study antibody-antigen interactions at the molecular level.
She completed her PhD at the University of Auckland and had postdoctoral training in Scotland, Auckland and at Duke-NUS Graduate Medical School in Singapore. Nikki returned to New Zealand in 2012 to commence her rheumatic fever research.
"I really do value the ongoing support of the Maurice Wilkins Centre for our work on rheumatic fever," said Nikki. "The PI appointment is something I'm very excited about. I'm sure that it will help us to continue building on the important research we have been doing in this area."